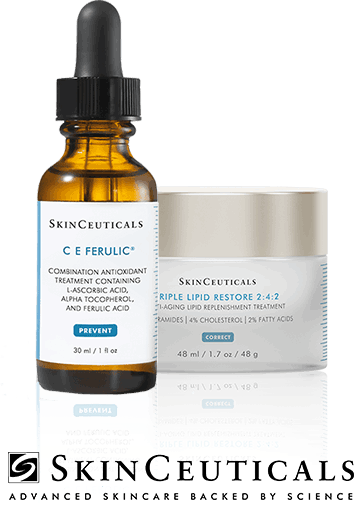 Medical-grade Skincueticals products in Brookfield
You may need to integrate stronger products into your skincare regimen if you're struggling to achieve your skincare goals. SkinCeuticals' medical-grade skincare products have proven-positive results, backed by years of research. Consult with a skincare expert at our Boutique at the Brookfield Corners for more information on advanced skincare. Our sponsored products are backed by one of the best plastic surgeons in Wisconsin – Dr. Michelle Bonness – along with our team of health and beauty specialists.
***Available in store only***
SkinCeuticals products include:
Facial cleansers
Face masks
Toners
Exfoliants
Night creams
Lip treatments
Moisturizers
Sunscreens
…and so much more! Shop all SKincuetical products at Bonness Boutique just outside Milwaukee, WI.
Bonness is an authorized retailer
Bonness Skin Care is an authorized retailer of medical grade skin care products. This means you can be sure the products you purchase in this store are genuine and come straight from the manufacturer.Most medical grade skin care sold on Amazon and Walmart sites are NOT authorized. The products online are either counterfeit or from an unknown source. These questionable products may not contain the correct ingredients and may actually harm your skin.
We believe it can be very difficult for patients to choose medical skin care products on their own. There are so many products and websites with misleading information. We want you to succeed and have beautiful healthy skin for longer. For more information, get in touch with our Brookfield Corners location! We'll connect you with the right line of products for your skin type and targeted areas of concern.
Contact Bonness for your complimentary skin care consultation!