CoolSculpting Procedures at our Brookfield Medical Spa
Bonness - #1 CoolSculpting Provider in Wisconsin
Coolsculpting is the world's number one non-surgical, minimal downtime, and no needles FDA-cleared procedure that can eliminate up to 25% of your fat.
Bonness is proud to be the number one Coolsculpting practice in the state, surpassing thousands of other med-spas in quality, performance, and experience. We offer the very best in Coolsculpting cost, procedure, treatment plans, and patient care for clients throughout southeast Wisconsin. From the initial visit to post-procedure updates, our caring CoolSculpting providers are with you every step of the way.
*Special alert! Get $500 off of 4 or more CoolSculpting Cycles - schedule today!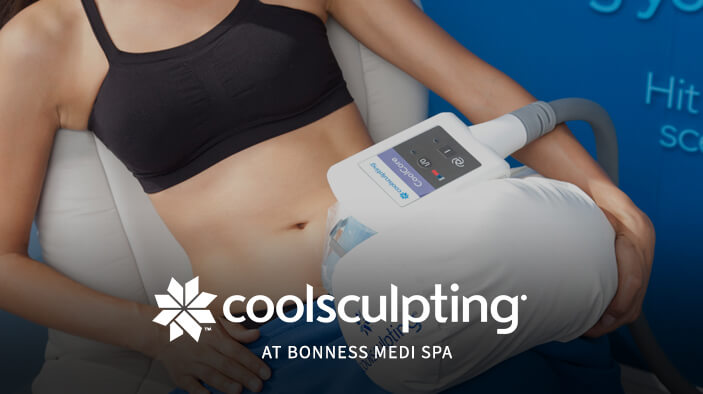 CoolSculpting Procedure
The Coolsculpting machine uses concentrated controlled cooling to eliminate fat. The highly focused cooling allows the deep fat cells to freeze while the overlying skin is not harmed. The frozen fat cells burst and exit the body naturally. Once the fat cells are gone, new ones will NOT come back. With each session of Coolsculpting, 25% of the fat is removed, translating into inches gone.
At Bonness Medical Spa, we perform the non-invasive CoolSculpting procedure in just 3 easy steps:
Our staff will carefully apply an applicator to the area of concern.
A controlled suction will then lightly pull the area into the applicator and begin the cooling.
When the treatment is finished the applicator is removed and the firm area is massaged to help minimize swelling improve lymphatics and increase your result by 68%.
You can resume your normal, daily activities immediately after the treatment too.
Losing inches - it's never been easier. At Bonness Cosmetic Surgery & Medi Spa, you get the most comprehensive fat removal results through our total transformation program, in as little as just two weeks!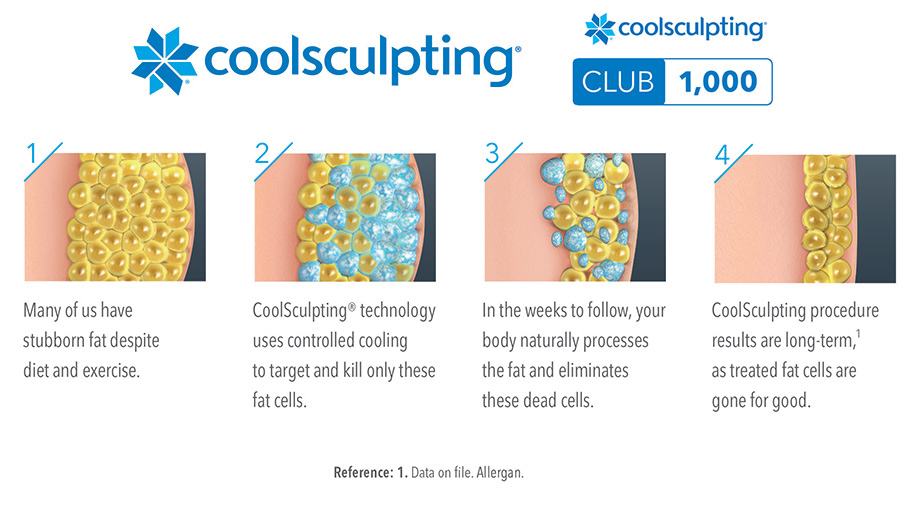 Applications & candidates
Reduce fat concentrated in:
Chin
Back
Bra strap area
Stomach, tummy, abdomen
Arms
Buttocks
Thighs
Losing inches doesn't have to be the hardest thing you've ever done, stop in at our Brookfield med-spa to discuss your non-surgical options.
CoolSculpting candidates
CoolSculpting is not a treatment for weight loss and should not be treated like lipo—instead, CoolScultping helps eliminate stubborn fat pockets in a variety of locations on the body. CoolSculpting is ideal for patients at a healthy weight who want to further sculpt their body to their goal shape.
The best CoolSculpting provider in Wisconsin is not limited to Brookfield. We've helped patients lose weight fast in Milwaukee, Waukesha, West Allis, Wauwatosa, Madison and beyond! We always schedule appointments and treatments around your life: so if you're driving from Madison on the weekend, we'll work you into a timeframe that fits your lifestyle.
CoolSculpting Before & After
At Bonness Cosmetic Surgery, we want you to be thrilled with your new self. When you schedule a CoolSculpting treatment, we have the ability to shape YOUR best body, the way YOU want to look. We pride ourselves on achieving total transformation for patients, which means we "Treat to Complete." Just two treatments of CoolSculpting can permanently reduce the fat on your body by 40-45%! Begin to see results in as little as 2 weeks, and full results at just 3 months.
Your body cannot make NEW fat cells. The destroyed fat will NEVER come back.
It is permanently gone!
Cost & financing
CoolSculpting is considered a cosmetic procedure under most insurance companies, so the treatment does not qualify for insurance. However, our clinic accepts a variety of payments including:
cash
credit
check
GreenSky
CareCredit
GreenSky financing for CoolSculpting
GreenSky offers a variety of plans and promotions custom to your needs, so you have access to all our services with payment installations backed by GreenSky insurance. Apply today!
CareCredit for medi-spa treatments
CareCredit is the easy-to-get healthcare credit card that applies to a variety of surgical and non-surgical cosmetic procedures, including CoolSculpting. They offer a variety of payment plans to offset the cost long-term of CoolScultping treatments.
Get in touch today to schedule your CoolSculpting appointment!
CoolSculpting FAQ's
Our Brookfield med spa specialists are here to give you answers to your burning CoolSculpting questions. Browse below or get in touch for more information on the procedure.
CoolSculpting is very safe. The surgery has been performed over 8 million times and counting. It's the FDA-cleared, effective way to contour your body and regain your natural shape.
Simply: no. You may feel discomfort during the procedure as the applicator begins to tug slightly at the skin and you will feel tingling. After a few minutes of this, these sensations will resolve as the area becomes numb.
It's non-invasive and so painless that some of our patients even sleep during the 30-75 minute procedure! Others choose to read, watch TV, or browse their phones in the meantime.
The swelling will occur post-treatment—this is normal. After the applicator is removed, the firm area is massaged to help minimize swelling, improve lymphatics, and increase your results by 68%.
In some target areas, two applicators can be applied at the same time. This will shorten your treatment time.
The total time of your treatment will depend on the number of areas we are treating. Each area can take anywhere between 35-75 minutes.
Yes - temporary redness, minimal swelling, rare bruising and skin sensitivity at the treatment site can occur but overall are very mild. These minor CoolSculpting side effects will resolve themselves in a few weeks.
Nope! After CoolSculpting, you can resume all normal activities. There may be some soreness and redness in the area for a few days, but all side effects will resolve within a few weeks.
At your complimentary consultation, we will do a personal assessment and give you a detailed treatment plan. We will tell you exactly how many sessions you will need to achieve your goals and stay in your budget.
Each session of Coolsculpting removes 25% of fat from the preferred area. For further and continued improvement more treatments can be done based on your personalized CoolSculpting plan.
You can view our Before & After's above, or stop in for a free consultation to see exactly how effective CoolSculpting is. We personalize every treatment plan to optimize permanent results in as little as one treatment.
In the clinical studies, patients began to see results as early as 1 month. After years of improvement and fine-honing, patients now see results in as early as 2 weeks. Results in full are seen as early as 3 months.
Ideal candidates for CoolSculpting are patients with areas of unwanted fat or "bulges." Even if you are a bit over your ideal body weight, you can still qualify for CoolSculpting procedures.
If you're working hard but just cannot shape your body how you want, CoolSculpting can help. Our providers will set your expectations specifically for you and your goals.
Coolsculpting is for nonsurgical fat reduction. After the Coolsculpting treatment, some patients report that the overlying skin has an overall better tone, is smoother, and is tighter than before. To further define your shape with increased muscle definition we recommend the most powerful muscle stimulating device on the market Cool Tone.
Physician-Grade Skincare
Our Wisconsin Medi Spa provides a variety of non-surgical cosmetic procedures to improve your skin and body, including:
Medical Spa
Dr. Bonness offers a variety of laser systems and injections to meet our patient needs. Some of our treatments include:
Cosmetic Surgery
At our Milwaukee area Cosmetic Clinic, we offer a variety of plastic surgery options. Our most popular treatments include: