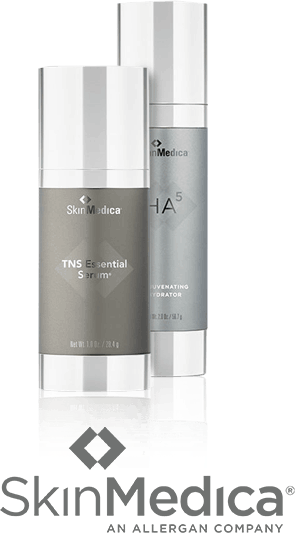 Achieve radiant skin with SkinMedica
For more than 10 years, SkinMedica has given patients clear and beautiful skin, along with more self-confidence. Their latest technology in skin care treatments and product lines prove to be one of the best-selling solutions for patients across the globe.
SkinMedica teamed up with Allergan in 2013, a world-renowned health care company focusing on dermatology, obesity intervention, and other specialized services. Accompanied with natural ingredients and the science of skin, the potent remedy has been featured in Self, Web MD, Elle, and People, as well as shows like The Today Show and The View.
Skin care consultations in Brookfield
The top rated skin solution is available right here at our Wisconsin medical spa. You can also find it in our Bonness Skincare boutique, where we offer top-quality brands for those who want to look as good as they feel. Dr. Bonness has the right tools and experience in providing patients with a variety of options for improving their outward appearance.
Bonness is an authorized retailer
Bonness Skin Care is an authorized retailer of medical grade skin care products. This means you can be sure the products you purchase in this store are genuine and come straight from the manufacturer.Most medical grade skin care sold on Amazon and Walmart sites are NOT authorized. The products online are either counterfeit or from an unknown source. These questionable products may not contain the correct ingredients and may actually harm your skin.
We believe it can be very difficult for patients to choose medical skin care products on their own. There are so many products and websites with misleading information. We want you to succeed and have beautiful healthy skin for longer. For more information, get in touch with our Brookfield Corners location! We'll connect you with the right line of products for your skin type and targeted areas of concern.
Contact Bonness for your complimentary skin care consultation!