CoolTone treatments in Brookfield, WI
Procedure, Cost, Before & After's
As Wisconsin's #1 CoolSculpting practice, we are proud to offer the best and most powerful FDA-cleared device for increasing muscle definition. Made by the same trusted company that offers CoolSculpting, CoolTone is approved for strengthening and toning muscles of the abdomen, thighs, and buttocks. Using high-frequency electromagnetic muscle stimulation to boost supramaximal muscle contractions you can achieve a stronger and firmer body. This absolutely no-downtime-procedure is done in the office by Wisconsin's best plastic surgeon: Dr. Michelle Bonness.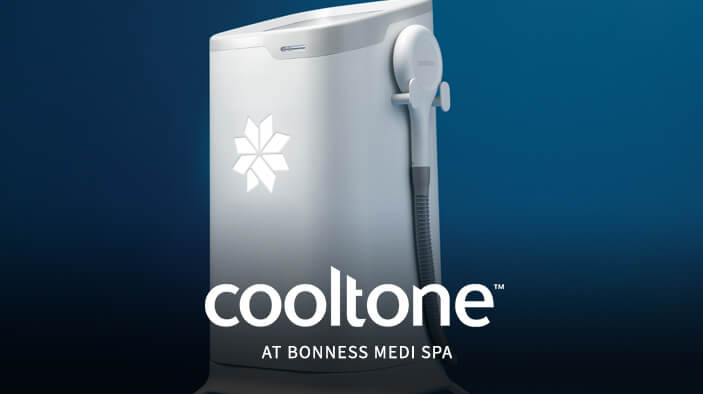 CoolTone Procedure
CoolTone is the latest (and strongest) fat reducing and muscle building nonsurgical energy device to gain FDA clearance. It is a no-downtime, pain-free, non-surgical way to define the abs and define lift the buttocks and reduce unwanted fat.
The machine contracts the muscle beyond what can be achieved through physical training. One 30 minute treatment is equal to 30000 sit-ups or squats. The stronger than normal muscle contraction leads to the building of new muscle mass, tone, and definition as well as enhanced fat metabolism through lipolysis.
CoolTone's high intensity, focused electromagnetic energy creates supramaximal muscle contraction and has 50% more energy than the leading muscle defining device on the market.
Like CoolSculpting, the CoolTone machine targets very specific parts of your body to build the muscle in that area. You can choose to define your abs, sculpt your butt, build muscle (effectively getting rid of thigh flab), and more with simple sessions. Your consultation at Bonness will give us an opportunity to discuss target areas and allow experts to identify the best plan forward.
Looking to sculpt your perfect body?
Applications & candidates
CoolTone is FDA cleared for treatment of the abdomen, buttocks and thighs. However, many other areas will benefit from increased muscle tone. At Bonness we give you a comprehensive assessment and create an individualized treatment based on your goals and your anatomy.
Areas well suited for CoolTone include:
Abdomen
Buttocks
Triceps
Thighs
CoolTone candidates
CoolTone is ideal for adults who are in good shape and are looking for more definition beyond what they are able to achieve at the gym. Adhering to a healthy lifestyle with regular physical activity will improve results.
We've helped patients tone muscle faster than ever in Milwaukee, Waukesha, West Allis, Wauwatosa, Madison and beyond! We always schedule appointments and treatments around your life: so if you're driving from Madison on the weekend, we'll work you into a timeframe that fits your lifestyle.
Before & Afters
CoolTone results in as early as 4 weeks!
At our Brookfield Med Spa, CoolTone treatments are applied to the abdominal area, buttocks, and thighs so you get the desired results in as little as 30 days. Just check out these before and after's below: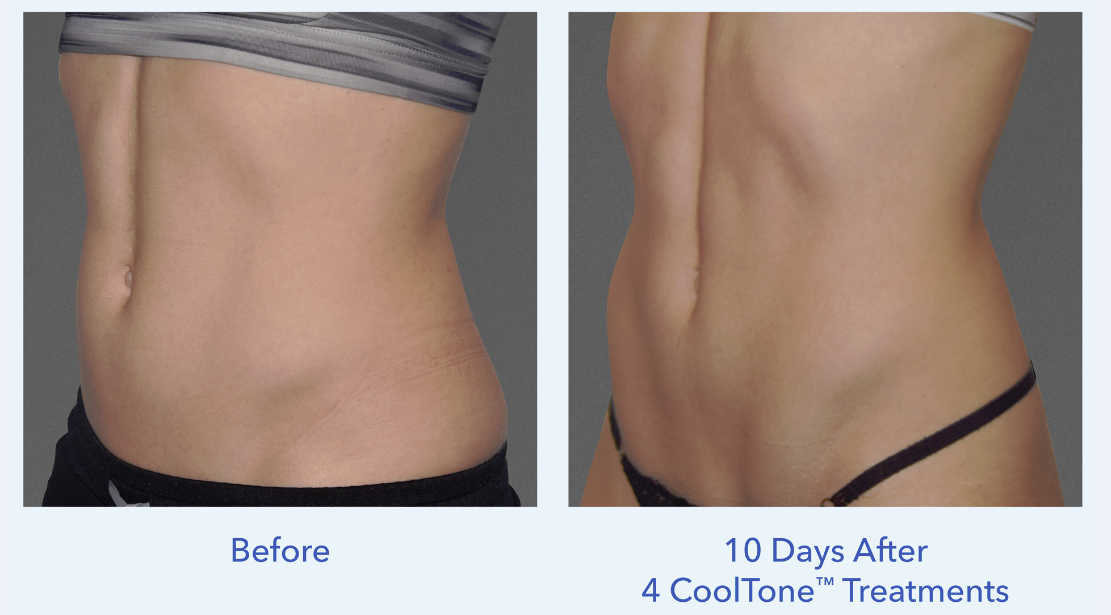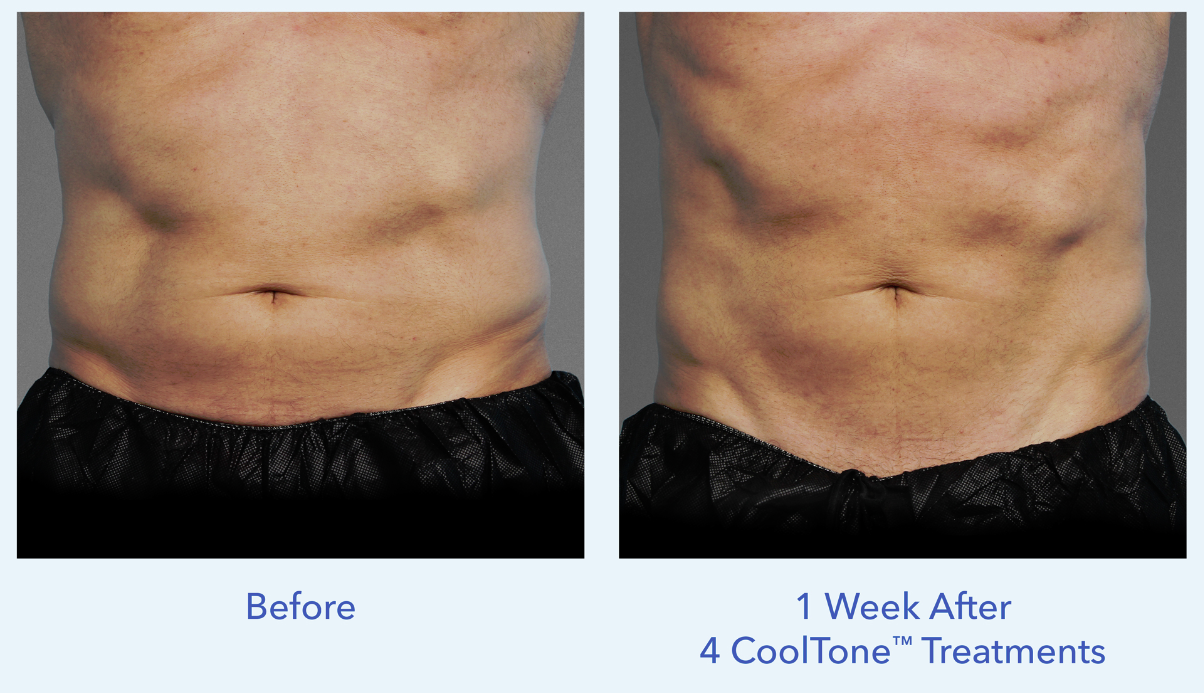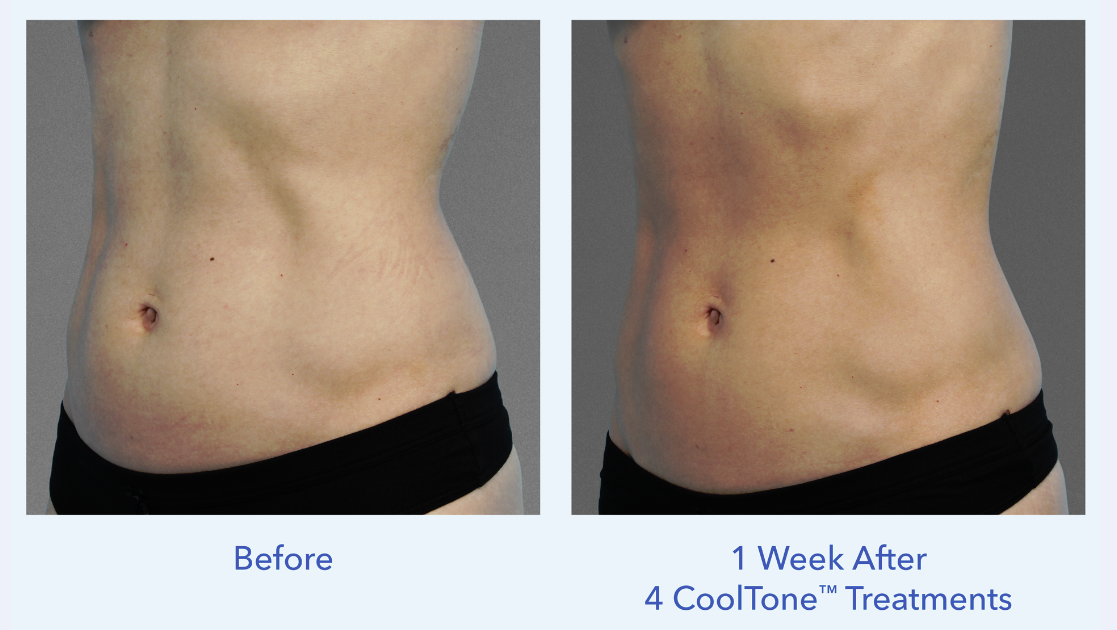 CoolTone FAQ's
Adults who are in good shape and looking for more definition beyond what they are able to achieve in the gym. Good candidates are physically active and adhere to a healthy lifestyle.
The electromagnetic energy will penetrate 7 cm of fat to stimulate muscle. So, patients with significant fat stores may not be ideal candidates. Those with thicker fat stores will feel less significant muscle stimulation and therefore see less results.
Those who are pregnant or nursing should not undergo the treatment.
Women who are close to or are menstruating may find that it comes sooner or with increased cramping, therefore we reccomend not undergoing treatment during this time.
Contraindications include:
Metal or electronic plates in the treatment area
Cardiac pacemakers
Implanted defibrillator
Implanted neurostimulators
Drug pumps
Malignant tumors
Hemorrhagic conditions
Seizures
Recent surgical procedures
CoolTone is FDA cleared for treatment of the abdomen, buttocks and thighs. However, many other areas will benefit from increased muscle tone. At Bonness we give you a comprehensive assessment and create an individualized treatment based on your goals and your anatomy. Areas well suited for CoolTone:
Abdomen
Buttocks
Triceps
Thighs
In the clinical studies on noninvasive body contouring patients had:
19% increase in muscle thickness
5% reduction in diastasis recti
27% decrease in the fat layer at 6 months
8mm reduction in thickness of subcutaneous fat
Clinical studies with CoolTone treated patients for 30 min a total of 4 times in two weeks. After that, one treatment every 3-6 months is recommended to maintain results.
That depends on your body, target area, and other factors discussed with our CoolTone specialist during the consultation.
There is no special preparation for a CoolTone session. The muscles will be strongly contracting so prepare like would if you were going to the gym.
Each CoolTone session is 30 minutes.
CoolTone is a non-surgical pain free muscle building magnet. It feels like a series of strong muscle contractions as if you are doing a very intense workout. Thinner patients may feel the CoolTone more than patients with a thicker fat layer.
The area of treatment will be minimally sore, just like after any muscle strengthening session. The discomforts may last for one day.
There is no downtime with CoolTone. You may resume normal activity immediately.
In the clinical studies improvement was seen within 2 months. Results will continue to improve over months as new collagen is created and fat melts away.
CoolTone treatments have long lasting results. Most patients will see results quickly after their first treatment and will continue to improve over the months. As with muscle building from exercise and weight training, increased muscle with CoolTone is not permanent. To maintain your results periodic treatments are recommended.
Yes, CoolTone is very safe. There are no side effects except for mild pain the next day. This discomfort is similar to any pain you would experience after a workout.
Yes. CoolTone is commonly combined with CoolSculpting for fat reduction and toning. It is recommended that CoolSculpting be done first followed by CoolTone. CoolTone can also be used after a surgical procedure to further enhance your result.
In clinical studies patients with diastasis saw a 10.5% reduction in diastasis recti.
No. A TENS unit uses a small amount of electrical energy to stimulate mild muscle contractions. CoolTone is exponentially more powerful stimulating strong supraphysiologic contractions.
Cost & financing
CoolTone is considered a cosmetic procedure under most insurance companies, so the treatment does not qualify for insurance. However, our clinic accepts a variety of payments including:
cash
credit
check
GreenSky
CareCredit
GreenSky financing for CoolTone
GreenSky offers a variety of plans and promotions custom to your needs, so you have access to all our services with payment installations backed by GreenSky insurance. Apply today!
CareCredit for medi-spa treatments
CareCredit is the easy to get a healthcare credit card that applies to a variety of surgical and non-surgical cosmetic procedures, including CoolTone. They offer a variety of payment plans to offset the cost long-term of CoolTone treatments.
Physician-Grade Skincare
Our Wisconsin Medi Spa provides a variety of non-surgical cosmetic procedures to improve your skin and body, including:
Medical Spa
Dr. Bonness offers a variety of laser systems and injections to meet our patient needs. Some of our treatments include:
Cosmetic Surgery
At our Milwaukee area Cosmetic Clinic, we offer a variety of plastic surgery options. Our most popular treatments include: