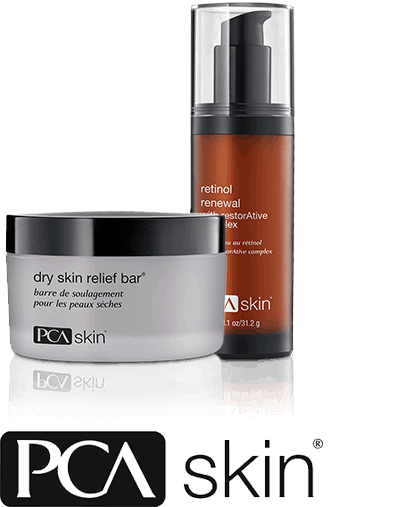 PCA Skin products available in Brookfield
The foundation of every healthy skin regimen starts with the products you choose – and when you've got the experts at Bonness by your side, you're sure to choose the right products. Shop all PCA SKIN products at our boutique at the Corners of Brookfield and consult with our staff for options depending on skin type, skin condition concern, targeted areas and more.
***Available in store only***
PCA SKIN products target:
Aging
Acne
Discolorations
Sensitive skin
Preventative measures
…and include a variety of moisturizers, exfoliants, cleansers and full body treatments to ensure you're bring out the best in your natural skin.
Clinical-strength skincare products that deliver results
Scientifically-proven results in every bottle! PCA Skincare continues to be a top innovator in the best formula to treat your skin ailments. Founded in 1990 by an experienced aesthetician and developed by a respected dermatologist, PCA Skincare is grounded in three pillars: product innovation, excellence in education & unparalleled customer support. This level of client focus is why Dr. Bonness is proud to provide this top skin healthcare line at her medical clinic & skincare boutique.
Benefits of getting PCA Skincare products from Bonness:
Personalized skin consult to find your best product
Doctor-recommended ingredients
Skincare made from high quality
Clinical grade formulas
In addition to clinical grade skincare for sale at both our clinic & medical spa locations, we also offer the best rated medical spa services in the Milwaukee area.
Contact Bonness to schedule your free initial consultation today!
Bonness is an authorized retailer
Bonness Skin Care is an authorized retailer of medical grade skin care products. This means you can be sure the products you purchase in this store are genuine and come straight from the manufacturer.Most medical grade skin care sold on Amazon and Walmart sites are NOT authorized. The products online are either counterfeit or from an unknown source. These questionable products may not contain the correct ingredients and may actually harm your skin.
We believe it can be very difficult for patients to choose medical skin care products on their own. There are so many products and websites with misleading information. We want you to succeed and have beautiful healthy skin for longer. For more information, get in touch with our Brookfield Corners location! We'll connect you with the right line of products for your skin type and targeted areas of concern.
Contact Bonness for your complimentary skin care consultation!