Hover over the images to see the Before and After images.
Brookfield Cosmetic Surgeon with Experience and Compassion
Women Understand the True Meaning of Confidence
Step into beauty and confidence with Bonness Cosmetic Surgery. Dr. Bonness is Double Board Certified by the American Board of Plastic Surgery, the only plastic surgery board recognized and accredited by the American Board of Medical Specialties, and by the American Board of Surgeons. She has been in private practice for 18 years with the same surgical staff and anesthesiologist. With years of experience and education, Dr. Bonness performs every surgery and treatment with 100% care and attention.
Being a woman, Dr. Bonness has a personal understanding of what women want and need. She carries no hard shell around. Dr. Bonness spends the time needed to fully educate you and make sure you are aware of all your options, ensuring you have a full understanding of the treatment or procedure you are considering.
Dr. Bonness is one of few Cosmetic Surgeons performing both surgical and non-surgical rejuvenations, providing you with a wider range of cosmetic treatments and procedures than most. Dr. Bonness believes in options and provides you with the most personalized choices to best suit your needs. Trust Dr. Bonness as your board certified, experienced and comprehensive plastic surgeon and medical spa physician.

Your body,
Your life,
Love it!
Introducing Kybella!
We are the first to launch it!
First FDA approved injection for submental fullness (also known as double chin). Dr. Bonness has been the selected physician in Wisconsin to train and direct this product. Receive the results you desire! https://mykybella.com/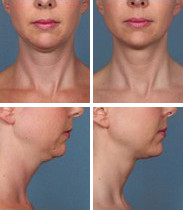 Looking for 1 aesthetician to join our growing practice
4/14/15 - Email alex@drbonness.com or call 262-782-7021 for more information.
Medical Spa near Oconomowoc
Our Wisconsin medical spa provides a variety of non-surgical cosmetic procedures to improve your skin and body. Our popular treatments include:
Enjoy smoother skin and a younger look with our medical spa laser treatments and other skin care procedures.
Laser Treatments for Body Contouring and Skin Tightening
Dr. Bonness offers three laser systems, introduced in 2015:
Feel educated and confident in your choice of treatment after a consultation with an aesthetician. Contact our Brookfield medical spa today to schedule an appointment (alex@drbonness.com or 262.782.7021).
Wisconsin Liposuction, Breast Augmentation, Tummy Tucks, and Other Cosmetic Surgery Options
At our Milwaukee area medical spa, we offer a variety of plastic and reconstructive surgeries, including:
Call today to schedule a consultation with Wisconsin's preeminent cosmetic surgeon and decide if cosmetic surgery is right for you. You deserve to look the way you feel.

Milwaukee Cosmetic Surgeon Offering Cellulaze!
Bonness Cosmetic Surgery and Medical Spa has the only Cellulaze Laser in Wisconsin. This is the only permanent treatment for Cellulite. Get ready to bare it all again! Cellulaze attacks the brittle structure beneath the skin; the real cause of cellulite's dimpled appearance. Increase your skin's natural depth for a smoother, healthier look with just one simple treatment!
For safe cosmetic surgeries and professional laser skin treatments, trust Dr. Bonness, your board certified, experienced and comprehensive Plastic and Reconstructive Surgeon in Brookfield, Wisconsin.